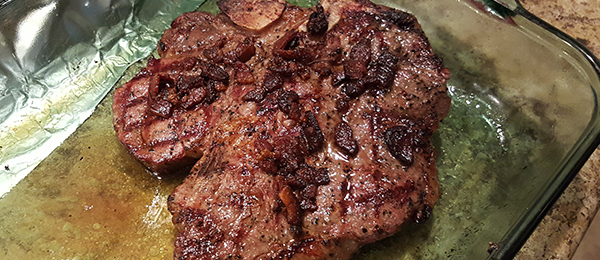 So tonight I wanted to really break in my new Primo XL (I'll blog about the adventure of getting this another time). Last weekend I'd picked up a pair of porterhouse steaks but ended up going with some boneless ribeyes instead so figured that these were perfect for this weekend.
I've wanted try a coffee rub for quite awhile now. Additionally, ever since watching this fantastic video from Ballistic BBQ I've wanted to make some bacon butter. I decided why not kill two birds with one stone, so I did just that. Another great video to watch from Ballistic BBQ is this one where he does a coffee rub on a giant cowboy ribeye.
Bacon butter
So I pretty much followed the recipe from the Ballistic BBQ video above. This was the first thing I cooked up (in a cast iron pan). I started with a tablespoon of Kerry Gold Salted Butter (in hindsight I should have used unsalted) and four slices of thick cut up into smallish bits. I heated this up over medium heat to render the bacon, then drained off the butter and rendered fat. Next I threw in another tablespoon of salted butter and the bacon, cooked until brown (actually think I went a bit to long on the bacon). I stored in a bowl and covered with foil until it was needed.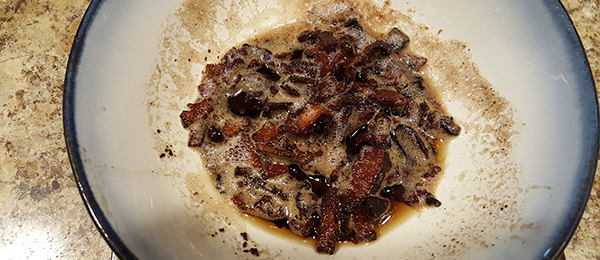 Seasoning
So last weekend I used a general seasoning that my old manager provided me. This weekend I took that and tweaked it just a little bit. Using the following recipe I combined the ingredients and threw them into my NutriNinja extractor to break them some.
1 part coffee grounds
1 part turbinado sugar
1 part kosher salt
1 part black pepper
1/4 part garlic powder
1/4 part onion powder
In this case, 1 part equaled a heaping tablespoon. I put these in a small herb jar which has a cap which lets me preserve the seasoning while sprinkling it liberally on the meat.
Before applying this rub to the porterhouse I hit it with a bit of olive oil and then liberally covered and rubbed it into the meat. Both sides were covered properly and the steaks were left to come to room temp while I got the Primo XL heated up.

I setup the Primo XL with coals on the left (using the firebox divider). On the right side I used the heat deflector plate to ensure proper indirect heat delivery. Once the grill was holding steady at 250 degrees I tossed the steaks on the right side, threw in some meat probes from my iGrill2 and closed the lid.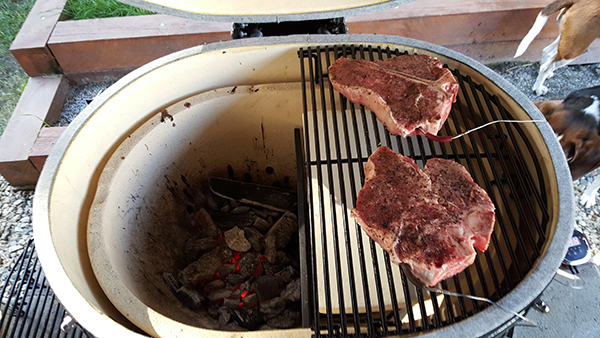 Once the steaks reached an internal temp of 120 I pulled them. Unfortunately they reached this temp at different times for whatever reason. As they were ready I stored them in a Pyrex covered in foil. This step is important as it allows the juices in the meat to redistribute. Once both steaks reached 120 I added another chimey of fresh hot lump charcoal to the left side of the grill. I opened the vents completely and waited, somewhat impatiently, for the grill to come up to temp. I wanted to sear these at 550 but I got tired of waiting (granted, this was really only about 10 minutes) so I tossed the steaks back on the grill at 500. With the lid closed I let them sear for a minute at a time. After each minute they were flipped. On the final minute I added some bacon butter to each steak.
Beause I rested the steaks before searing them I didn't have to let them rest after taking them off the grill the second time, instead we sliced them up. I've never cooked a porterhouse steak before and clearly could use some help with cutting them up. I also really need a better set of kitchen knives (I've got my eye on a nice set from Victorinox).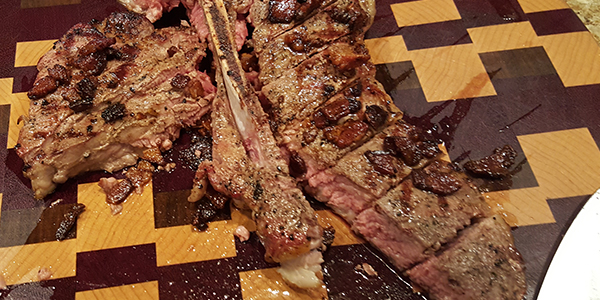 These steaks were served with a side of garlic mashed potatoes. The bacon butter added to the potatoes was absolutely amazing, it was really good on the porterhouse steaks as well. I will use bacon butter again without a doubt.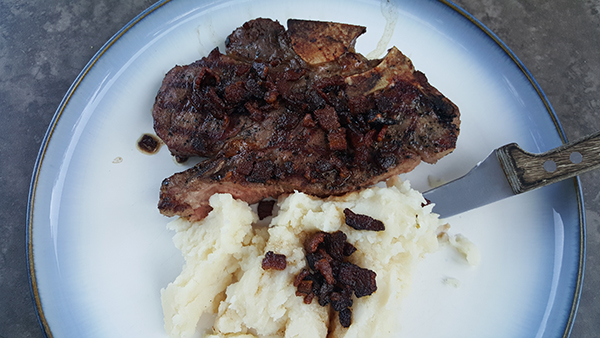 Final thoughts
So this was fun and I'm glad I tried it. I will make a few changes next time though. First off, I'm not really thrilled with the porterhouse. I prefer a good bone in ribeye instead. In fact, if I can do it I'd love to go with a cowboy ribeye for this meal. Also, I could barely make out any coffee flavor so I think I would increase the amount of coffee grounds the next time. I will use unsalted butter with the bacon (as bacon is plenty salty on it's own). I'll also make more bacon butter, at least using two tablespoons for the second part of the process so we have more butter to spread around.
More posts in Cooking

September 28, 2015

September 23, 2015

September 20, 2015

September 11, 2015